What is it that Parallel Production does?

Sometimes we answer, "it's a small production company based in Sweden." Other times, "It's a small independent publishing house," or simply, "an art book publisher," or "a producer of art and exhibitions," or lately, "Parallel is all about finding alternative art space and creating experimental art books." The truth is - Parallel is all of the above and therefore very hard to define in one answer.

We love the concept of parallel collaborations.

The main focus lies on book publications due to my history as a writer and lover of books. But my love has never been aimed at ordinary books, the mainstream kind you see printed in mass copies where all beauty has been replaced by commodity.

I have never bought an eBook or a paperback at a kiosk for $7.99 and can proudly say I never will. My love for books lies in the beauty of the cover, the content, and the feeling of holding something rare in my hand. Weather it's a vintage paperback, a unique leather bound book, or a strange handmade material between my fingers, my love for the book comes from the feeling it gives me as I place it in my hand.

Parallel began experimentation of creating an alternative book.

My first publication became a trial study and a successful one if I might say. Using my own text I wanted to see how far I could go in creating a book that did not look like an ordinary book without loosing its feeling of a book. I wanted the content to transcend from paper all the way out to the cover. With the help of a great team in Stockholm we created PROPERTY OF SCAVENGER.

It was also very important that the book didn't just stay as a book, and so I created a limited edition of the handmade printed copies and the rest I allowed access to for free on its own website. The project is still unfolding as a short film is planned, and so the book itself becomes not simply an item, a commodity, or a product, but a small part of something bigger.

With this idea, allowing a book to to change and develop after its publication, we began my second publication. TILL ADAM by artist Miriam Bäckström, became something else. It became the opposite - an artwork was developed and changed. In 2007 Miriam created an audio artwork for a culture festival in Stockholm and so we thought, why not transform an old artwork into a book.

Art became a book and with that a new idea grew.

How many artists aren't sitting on such great art, which has been deemed to be redundant or finished but can actually be developed into something new - and so the idea of the FINGERPRINT project began to grow.

From there parallel continues to develop ideas and concepts, inventing new ways within the field of publications and art...

Best,
Alex backstrom

contact: alexandra.backstrom@gmail.com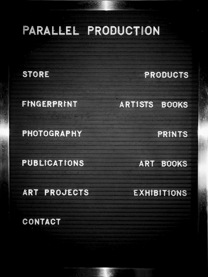 We aim to create a constant fusion between art and book; to experiment on what a book is and how art can be transformed and viewed.

The field of publication is rapidly changing and we want to take part of that change. We believe a book will once again become a piece of art.
Parallel continously strives to create new and inventive art venues for professional and up-coming artist within sweden and internationally.

We believe art should not be limited to galleries and closed art affiliated circles - instead it should be brought to the viewer and be incorporated with the society it inhabits.
Parallel values collaborations, and the unexpected.

Our aim is not to be limited how certain things are done or what Parallel is supposed to do - creativity is to move beyond that.