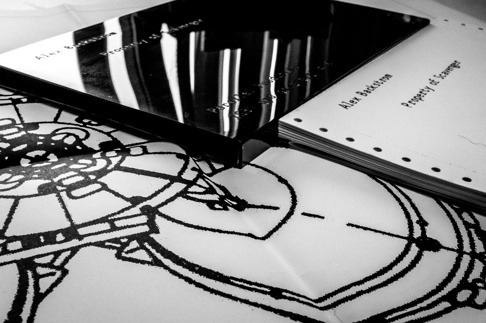 Property of Scavenger is a futuristic novelette where the plot takes place on a power plant located at the encircling rings of Saturn. Disconnected from the rest of civilization the plant relies on a cryptogam that turns the dead into pure energy in order to be self-sufficient.

The inhabitants, relocated while being cryopreserved, have long since been awakened and recreated to fit their new home and assigned purposes, disfigured based on their application. When, for no apparent reason, all communication with the home planet is lost, and the energy diminishes with each new body claimed by the plant, there's only one solution to the occupants situation. Volunteers will be needed and the selection is commenced.

Harvester is a man in charge of harvesting a byproduct of the cryptogam, a psychedelic seed that is used by the inhabitants as vacation. Now the seeds have become their ultimate escape and aid if they are ever to find their way back home again. Time passes and as the population reduces Harvester find his purpose alters and before long, he becomes Scavenger.

Through abandoned letters and Scavenger's perception we are taken through different layers of consciousness as he explains the full layout of the plant, the inhabitants and uncovered memories. But once all the puzzles are put together, we find ourselves in doubt of all given fact and are left speculating whose reality to trust.
Influenced by Philip K. Dick, Alex Backstrom, born in Stockholm, Sweden, explore the perception of reality.

Backstrom has always been drawn to the format of short stories. After the release of her first publication, Property of Scavenger, Alex Backstrom moved to California to study immediate writing at California State University of Fullerton.

A subjective realism is evident in Alex Backstrom's work. Through her stories, there is a feeling of existential dread as uncanny worlds emerge. Through a first person point of view, the reader is immediately placed inside a foreign reality that by instinct is perceived as real; a false awareness shaped by stated facts and attitudes.

With a multitude of layers, Alex Backstrom uses metaphors to convey an authentic environment.
FREE SHIPPING WORLDWIDE

Limited printed edition includes a poster with illustrations by Phonofidelic. Free download below (text only).

Order a limited edition here:
Download a free copy here:
2012
science fiction - bronze
Independent Publisher Book Award, NYC.